Footsteps Clinic, established in 2006, is one of the leading chiropodists in Aldridge, Tamworth, and surrounding areas in the Midlands.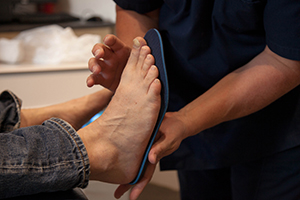 Chiropody, also known as podiatry, is a specialised, registered and regulated health profession, concerned with the clinical diagnosis, treatment and management of a wide range of conditions affecting the human foot and lower limb. Simply put, all things related to the way we walk.
Our feet help us balance and carry us a distance equivalent to 5 times around the Earth during a lifetime; in return, we rarely give them the attention they deserve, therefore maintaining foot comfort is essential.
Our chiropody treatment covers the following areas:
Routine Nail Care
Hard Skin & Corns
Ingrown Toe Nails
Dry Skin & Cracked Heels
Heel & Ball of Foot Pain
Insoles & Orthotics
Verrucae Pedis
Diabetic Foot Care
Biomechanical Assessment
Footsteps Clinic currently have a number of highly qualified and experienced chiropodists, which are led by Jonathan Shearer, the founder of the treatment clinic.
So, if you are seeking a chiropodist in Aldridge, and surrounding areas in the Midlands, then simply get in touch with Foosteps Treatment Clinic today. You won't be disappointed!