Footsteps Clinic, established in 2006, is one of the leading chiropodists in Lichfield, Tamworth, and surrounding areas in the Midlands.
Led by Jonathan and his team, our chiropodists (or podiatrists, as they are also known), have a vast amount of experience within the industry, ensuring that your feet are in safe hands!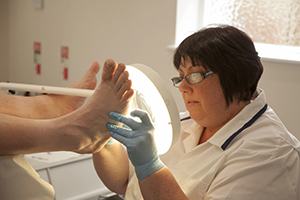 Some of the chiropody treatments that we provide include:
Routine Nail Care
Hard Skin & Corns
Ingrown Toe Nails
Dry Skin & Cracked Heels
Heel & Ball of Foot Pain
Insoles & Orthotics
Verrucae Pedis
Diabetic Foot Care
Biomechanical Assessment
For full details please click here.
In addition to this treatment, Footsteps Clinic also provides first class sports therapy and sports massage
We pride ourselves on our highly trained and experienced, friendly staff ensuring all our clients receive the professional care they deserve and a warm welcome from our reception team.
So, if you are looking for a chiropodist in Sutton Coldfield, or throughout the Midlands area, then you have come to the right place!
We look forward to welcoming you to Footsteps Clinic.