If you are looking for a chiropodist in Sutton Coldfield, then why not visit our treatment clinic in Tamworth, as we are just a short 15 minute drive away.
As well as being one of the most highly regarded chiropodists in the Midlands, Footsteps Treatment Clinic also offers a wide range of other therapy services, including sports massage and sports injury therapy.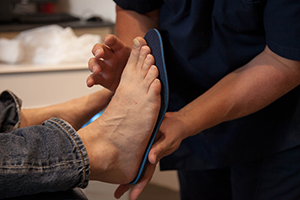 We are also proud of the fact that all of our chiropodists have completed a three degree programme, have a vast amount of experience and are HCPC registered.
So, with all of this, it's not hard to see why we have grown to become one of the leading treatment clients throughout the Midlands area.
Footsteps is situated in the busy heart of Tamworth Town Centre, serving clients from Lichfield, Shenstone, Sutton Coldfield, Atherstone and across Staffordshire and the Midlands. We pride ourselves on our highly trained and experienced, friendly staff ensuring all our clients receive the professional care they deserve and a warm welcome from our reception team.
So, if you are keen to find the best chiropodist in Sutton Coldfield, why not get in touch with us today?
We look forward to welcoming you to Footsteps Clinic.